Systematic Investigation of Blacks with Stroke – Genomics (SIBS-Genomics)
The Goal: to better understand the genetic and environmental contributions to risk of stroke in populations of African descent, develop new solutions to control its burden and reduce the occurrence of stroke-related deaths, disability and dementia.
The Problem
Stroke is the second leading cause of death globally. Ischemic stroke (IS) specifically accounts for up to 90% of strokes in the United States and is the clinical culmination of several complex and interacting biological processes, including various genetic and environmental factors, making it difficult to analyze its underlying mechanisms. Additionally, substantial amount of genetic risk for stroke remains unexplained especially in populations of African descent, who have a higher risk of stroke. However, these populations have traditionally been excluded from GWAS studies studying stroke, leaving them emptyhanded in the search for understanding stroke.
Project Strategy
Identify novel genetics variants associated with IS by performing GWAS on 8,000 research participants from continental Africa
Validate all novel variants to confirm their effect on IS in populations of African descent
Locate and validate the genetic loci of IS found in European American and other non-African populations using data from populations of African descent
Successes and Potential Impact
This research can illuminate risk factors for stroke and can be used to motivate public health interventions. Additionally, the group educates communities about the causes and effects of stroke as well as risk factors and prevention.  
Project Sites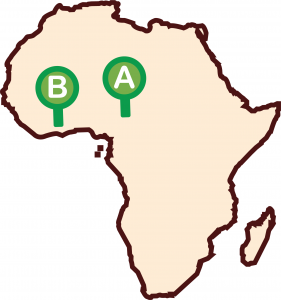 A: Nigeria
University of Ibadan College of Medicine, University of Ilorin, Ahmadu Bello University Teaching Hospital, Federal Medical Centre
B: Ghana
Kwameh Nkrumah University of Science and Technology, University of Ghana Accra,
Non-African Collaborators:
USA: Medical University of South Carolina, University of Alabama at Birmingham, University of Kentucky