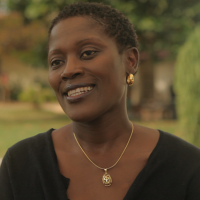 Dr. Julie Makani
Senior Lecturer and Specialist Physician, Department of Hematology and Blood Transfusion at Muhimbili University of Health and Allied Sciences
---
Julie Makani is a senior lecturer and specialist physician in the Department of Hematology and Blood Transfusion at Muhimbili University of Health and Allied Sciences (MUHAS) in Dar-es-Salaam, Tanzania. She also holds an appointment as a Clinical Research Fellow in the Nuffield Department of Medicine, University of Oxford.
Tanzania has recognised sickle cell disease (SCD), as a major public health problem that has been neglected. Due to its molecular basis, SCD presents great opportunities for integrating clinical, epidemiological, patho-physiological and genetic research to test the paradigm of translation of research in genomic medicine into improvement in health and advancement of scientific knowledge.
Muhimbili is the main clinical, academic and research centre in Tanzania. In collaboration with the Wellcome Trust, Muhimbili has developed a systematic framework for comprehensive research and care, with prospective surveillance of over 2,000 SCD individuals, making it one of the largest single-centre SCD cohorts in the world with detailed phenotypic data. SCD also confers protection against malaria and Muhimbili is a collaborative site for Malaria Genomic Epidemiology Network (MalariaGEN). The SCD programme is integrated into health care provision with development of evidence-based policies to improve practise and the health of affected individuals.
SCD could be used as a model to establish scientific and technological solutions in Africa that are locally relevant as well as having global significance. Achieving success in SCD will illustrate that with effective global partnerships, significant advances in biomedical science and health can be achieved.