The H3Africa Community would like to bid a sincere farewell to a dear colleague and friend. 
Sr Veronica Francis (69), passed on 2 February 2021 due to COVID-19 complications. She joined UCT in 2007 and was a research coordinator at the Mayosi Research Group in the Faculty of Health Sciences.
She was dedicated to fostering collaborations between numerous South African Institutions and internationally. In her day to day activities she was a pillar of support. Mrs Francis is survived by her son Craig, daughter Faye and her grandchildren. Her funeral took place on Saturday, 6 February 2021. We will miss Veronica's soft smile and bright spirit. We appreciate the contribution she made and will always remember her fondly.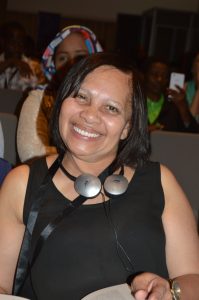 Various
It is really a sad news. May God rest her in peace and give the strength and comfort to her family and friends.
---
Valerien Mutambyi, William Ebomoyi, Samar Kamal, Saidi Kapiga, Emmanuel Adamolekun, Enock Matovu, Khalid Sadki, Kidist Bobosha, Ifeoma Ulasi, Valerien Mutambyi, Adebiyi Ezikiel, Biniam Wondale, Sam Emmanuel James, Wafaa Rashed, Alia Benkahla, Emile Chimusa, Cathrine Hoyo
Robin Mason
I am truly heartbroken to hear of the passing of Veronica. As you noted in the announcement Veronica was instrumental to the success of the H3Africa study coordinator group. She took on Chair responsibilities with so much enthusiasm and served in that capacity for several years. She was such a warm and gentle soul. Always had an encouraging word and positive attitude.
She will be missed.
Raj Ramesar
Truly sorry to hear of Veronica's passing….she was a remarkable human being. The planet is poorer for her loss.  I suppose what is even more tragic is that the vaccine has just physically arrived at our 'doorstep' but is still a 'lifetime' away, as has been shown in this instance. Strength to Veronica's family, friends and Colleagues
Jennifer Troyer
I am so sad to hear this.  Veronica will be missed for her work and for her beautiful spirit, energy, and the warmth and enthusiasm she brought to everything she did.  Please extend my sympathy to her family.
Sylvan Kaboha
This is so soo sad! May we celebrate Sr. Veronica for the lady she was, her many acts of kindness, generosity and commitment to improving lives of all those around her!
Forever remember fondly, and my she Repose in Eternal Peace. AMEN!
Abraham Tekola
"Tears are
words that
need tobe
written "
I really feel sad…!!!
Dwomo Adu
Dear Michelle, that is terrible news.  Please extend the condolences of all us on H3Kidney to her family and friends. May her soul rest in peace
Guida Landoure
Sorry to hear this tragic news. My thoughts to her family and the H3Africa community. We have lost a very humanist person.
Zané Lombard
So sorry to receive this sad news! Thinking of her family and colleagues in this difficult time.
Audrey Duncanson
This is terribly sad news. Sister Veronica was amazing in her work in RHDGen and H3Africa, but also such a wonderful, warm and funny person who was a joy to be around. She will be so missed.
My condolences to you, her many close colleagues and her family.
Mogomotsi Matshaba
So sorry to hear about Sr Francis passing. May her soul rest in peace.  This a big loss for the H3A family. Her friends, family and colleagues are in our prayers.
Samira H. Abdelrahman
So sorry to hear this very sad news.
My prayers to her family and the H3Africa community.
Sudha Srinivasan
MY deepest condolences to family and friends.
She was a lovely person.
RIP Veronica.
Moussa Bamba Kanoute
So sad news.
Veronica will lack us in a physical way but will always stay with us through her works and actions.
Seybou Hassane Diallo
This is sad news for the scientific world.
It is a great figure just passed away.
May the almighty lord accept  her in his paradise
David Téa Okou
It is heartbreaking to learn about the passing of Sr Veronica Francis. My condolences to her family and the entire consortium.
May her soul rest in peace.
Emmanuel Adamolekun
What a great loss to have Veronica. I pray God gives her family, friends and the entire consortium the fortitude to bear this loss.
Charles Rotimi
Very terrible news. At a loss for words. Condolences to her family and wishing her colleagues strength in these challenging times.
Sola Gbotosho
So sorry to hear about the loss of Sr Veronica Francis.  May light perpetual shine on her.
May the Lord comfort her family.
Mayowa Ogunronbi
My deepest condolences to the family. May God grant everyone the fortitude to bear this loss and may her soul rest in perfect peace.