Collaborative African Genomics Network (CAfGEN)
The Goal: CAfGEN aims to use novel genomics technologies to better understand HIV and tuberculosis (TB) in African children, and also to provide a robust foundation for expanding the use and knowledge of genomics on the African continent.
 The Problem
While HIV and TB are devastating on a global scale, the African continent is disproportionally affected by these diseases. Additionally, HIV infection progresses more rapidly in children than in adults, but little research has been undertaken to understand why. Similarly, TB is common in Africa and is particularly difficult to diagnose in children, as the underlying mechanisms are not well understood.
Project Strategy
Expand studies in Africa on the genomics of HIV and TB progression in children with HIV infection.
Provide short and long-term support of genomics and bioinformatics training in Africa.
Engage local communities in Botswana, Uganda, and Eswatini to discuss the ethical, legal, and social issues related to genomics research.
Outcomes & Impact
CAfGEN has used modern genomic techniques to identify genes that may be influencing HIV and TB progression in children, paving the way for future studies. The group has also leveraged scientific studies to develop genomics capacity, technology, and expertise in Uganda, Eswatini, and Botswana, where there was little existing infrastructure for such research. To date, 2 CAfGEN PhD student have successfully graduated and been absorbed by their respective countries.
They've also effectively engaged local communities in addressing ethical, legal and social issues related to genomics research while educating communities through a comic book series, written in the 8 most commonly spoken languages in Africa, making complex scientific concepts accessible to the public in a highly effective manner.
Project Sites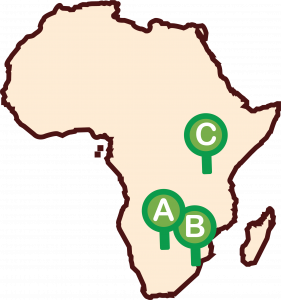 A. Botswana
Botswana-Baylor Children's Clinical Center of Excellence and University of Botswana
B. Eswatini (formerly Swaziland)
Baylor College of Medicine Children's Foundation-Swaziland
C. Uganda
Baylor College of Medicine Children's Foundation-Uganda and Makerere University College of Health Sciences
Non-African Collaborators:
USA: Baylor College of Medicine