Deciphering Developmental Disorders in Africa (DDD-Africa) – Evaluating Clinical Exome Sequencing in an African Setting
The Goal: to find genetic causes of developmental disorders in African populations.
The Problem
Developmental disorders cause an ongoing major delay in the process of normal child development. Delay can occur in one or many areas—for example, gross- or fine motor, language, social, or thinking skills. There is little known about the prevalence of DD and the impact on families and health care services. We do know that there are many different forms of developmental disorders, and although these disorders are usually individually rare, collectively they affect many children across the Continent of Africa.
Project Strategy
The project is modelled on the extremely successful Deciphering Developmental Delay (DDD)-UK study, which facilitated the translation of genomic sequencing technologies for diagnosing DD into the National Health Service (NHS) through collaboration with the Wellcome Trust Sanger Institute. In addition, we receive strong training and scientific support from our partners at the Center for Human Genetics, KU Leuven (Belgium) to achieve the following goals:
Recruit 500 children affected by a severe developmental disorder, together with their mothers and fathers.
Collect detailed clinical information and DNA samples from patients and their parents and perform whole-exome sequencing and bioinformatics analysis to uncover the underlying genetic causative mutations that have led to the occurrence of the developmental disorder.
Potential Impact
DDD-Africa will create a unique opportunity to improve research capacity, and to build a wider collaborative network focused on these rare disorders on the African continent in future. Our long-term goal for the project is to develop a practical and effective approach for the sustainable integration of whole-exome sequencing into DD diagnostics in a way that will enable a precision public health approach for Africa.
Project Sites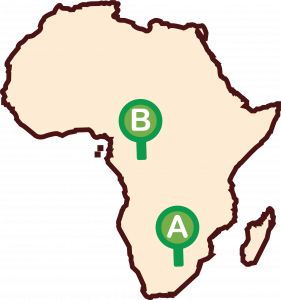 A: South Africa
University of the Witwatersrand, National Health Lab Service
B: Democratic Republic of the Congo
Institut National de Recherche Biomédicales