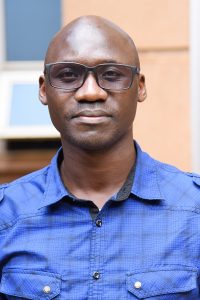 Gerald Mboowa
H3Africa PI: Moses Joloba
---
Institution: Makerere University, Uganda; Africa CDC
Project Affiliation: CAfGEN
Abstract
Background: Two major initiatives have transformed both human and pathogen genomics in Africa. The Human Heredity and Health in Africa (H3Africa) has over the past 10 years facilitated large scale genomic research into diseases in diverse African populations while also developing infrastructure, resources, training, and ethical guidelines. Additionally, because of COVID-19 pandemic, the last two years have seen the Africa Centres for Disease Control and Prevention (Africa CDC) through the Africa Pathogen Genomics Initiative (Africa PGI) promote continent-wide pathogen genomics and bioinformatics integration into national public health institutions (NPHIs) for disease surveillance to ensure rapid and timely response to infectious disease outbreaks. There is no doubt that these two investments have positioned the continent to embrace the genomic era.
Approach: H3Africa implemented 51 projects that include population-based genomic studies of common, non-communicable disorders such as sickle cell disease, heart, and renal disease, as well as communicable diseases such as tuberculosis and HIV. The consortium has also supported many crucial capacity building elements, such as: ethical, legal, and social implications of genomic research; training and capacity building for bioinformatics; capacity for biobanking; and coordination and networking. Africa PGI has integrated genomics-based systems within NPHIs as major step towards democratizing public health genomics to accelerate uptake and overall support of attainment of the 2016-2030 Africa Union's health strategy and 2063 agenda of a continent devoid of disease threats.
Results: Some H3Africa funded projects such as biorepositories and bioinformatics training programs have adopted sustainable strategies beyond H3Africa. Several NPHIs in Africa have acquired NGS platforms and but few have access to bioinformatics infrastructure to support integration of genomics for public health decision making enabling translation of genome‐based knowledge and technologies to improve population health.
Conclusion: Countries need to develop and implement policy and guidance on applications of genomic technologies such as prenatal and postnatal genetic testing, individual or population genetic screening as well as public health multi-pathogen genomic surveillance strategies among others. Genomics and bioinformatics communities of practice in Africa will drive strategy, provide guidance, solve problems, and promote best practices.