H3Africa Kidney Disease Research Network (H3AKDRN)
The Goal:  to investigate genetic and environmental factors leading to Chronic Kidney Disease across Africa to inform novel prevention and treatment strategies.
The Problem
One in 7 adults in Sub-Saharan Africa (SSA) has chronic kidney disease (CKD), leading to ill health from cardiovascular disease and even death from end stage kidney failure (ESRD). The growing burden of CKD is driven by an increasing prevalence of obesity, diabetes and hypertension in aging populations in SSA. Additionally, these same populations are simulatenously impacted infectious diseases that increase risk of CKD, such as HIV and schistosomiasis.
Project Strategy
Define the role of APOL1, a gene associated with CKD in Africans, and its genetic variations to CKD in Africans.
Explore the interaction between APOL1 variants and other causes of CKD such as hypertension, diabetes, sickle cell anaemia, glomerulonephritis, HIV infection.
Determine the mechanisms by which these APOL1 variants initiate and lead to progression of CKD, which could inform novel prevention and treatment strategies.
Outcomes to Date
To form the foundation of their study, H3AKDRN investigators have recruited over 10,000 subjects with kidney disease and healthy controls from Ghana and Nigeria. So far, they have discovered that subjects carrying 2 APOL1 risk alleles have a 45% higher risk of developing CKD compared to subjects with one or no risk alleles. Furthermore, genetic analysis of their participants has shown that nearly 1/4 of healthy subjects from Ghana and Nigeria carry these two risk alleles, while 1/3 of subjects with CKD carry the same two alleles. Together, these results verify the role of APOL1 in CKD progression while demonstrating that there are other crucial factors at play that warrant further analysis.
Project Sites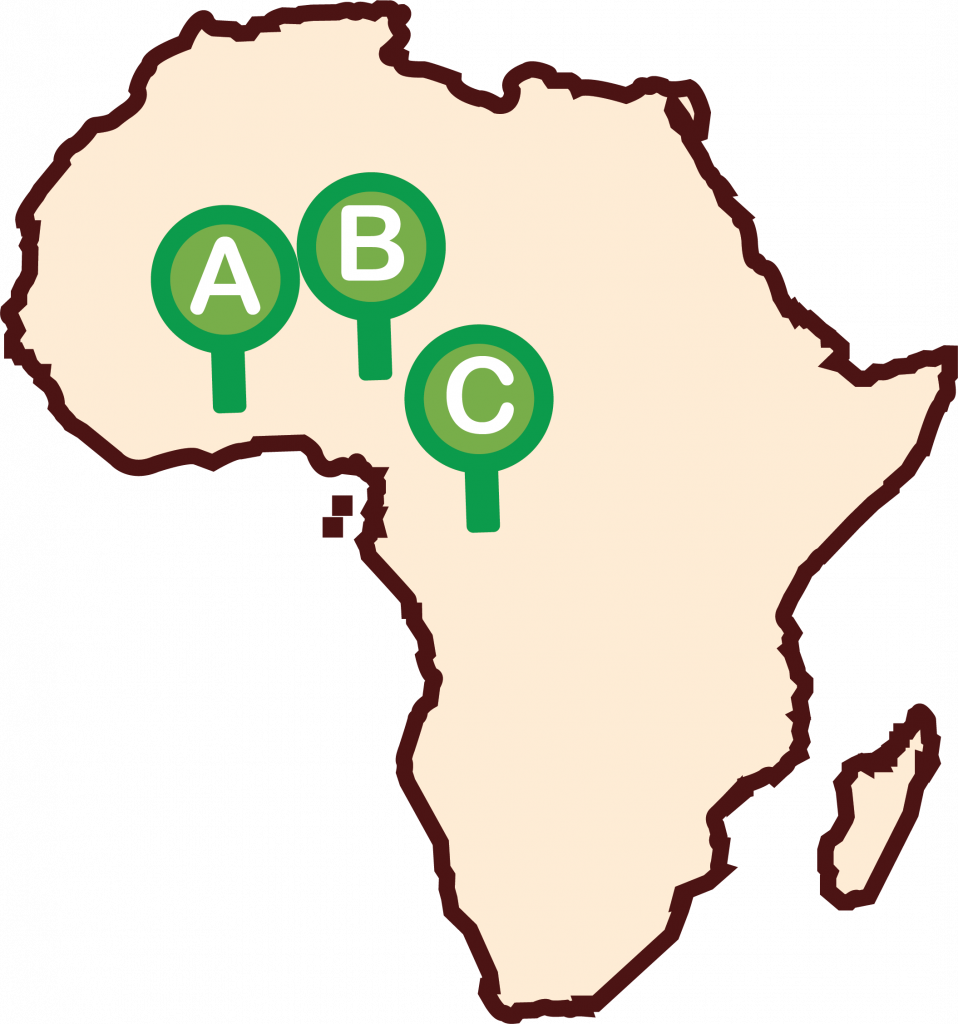 A: Ghana
University of Ghana Medical School, Kwame Nkrumah University of Science and Technology, Univeristy of Cape Coast
B: Nigeria
Aminu Kano Teaching Hospital, Delta State University Teaching Hospital, Nnamdi Azikwe Teaching Hospital, Obafemi Awolowo University, University of Abuja Teaching Hospital, University of Ibadan, University of Ilorin, University of Nigeria Teaching Hospital
C: Cameroon
University of Yaounde
Non-African Collaborators:
USA: University of Arizona, Duke University, Emory University, Loyola University Health System, New York University, University of Michigan, University of Illinois at Chicago, NHGRI
Canada: University of Toronto