Sickle Cell Disease Genomics Network of Africa (SickleGenAfrica)
The Goal: to understand how genetics influence the progression of Sickle Cell Disease (SCD) in Africans to inform novel management and treatment strategies.
The Problem
Sickle Cell Disease (SCD) is one of the most common genetic diseases globally, but Africans are especially burdended by the disease: nearly 2% of births in sub-Sarahan Africa are affected by SCD. While solutions based largely on infection control have reduced the effects of the disease globally particularly among children, it is still difficult to predict, prevent and effectively manage the end-stage organ damage typical of this genetic disorder.
Project Strategy
To develop prognostic markers of organ damage through the discovery of key genetic factors and mechanisms that influence the pathogenesis of SCD.
To build capacity and career pipelines in Africa to support translational and patient-centred research to advance the development of innovative therapy for SCD.
Outcomes to Date
SickleGenAfrica's preliminary results have identified that quantitative differences in key hemolysis defense proteins influence the development of end-organ damage in SCD. The network is working to validate these results studying the largest global cohort of SCD patients, and animal models to learn more about their affects in the disease process. As this large-scale research project is in its infancy, the project is currently working to establish their core investigator networks and building infrastructure to support crucial laboratory and clinical work, which will enable it to make massive strides in understanding SCD in the coming years.
Project Sites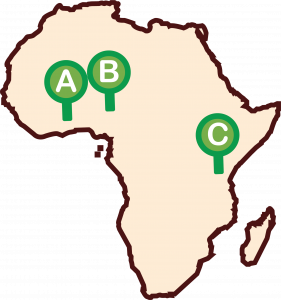 A: Ghana
West African Genetic Medicine Centre (WAGMC), University of Ghana, Accra. Kwame Nkrumah University of Science and Technology, Kumasi
B: Nigeria
Bayero University, Kano. Aminu Kano Teaching Hospital, Kano. Institue of Human Virology Nigeria, Abuja. University of Abuja, Abuja. University of Lagos, Lagos
C: Tanzania
Muhumbili University of Health and Allied Sciences, Dar es Salaam
Non-African Collaborators:
USA: University of Pittsburgh, Pittsburgh