West African Sustainable Leadership and Innovation Training in Bioinformatics Research  (WASLITBRe)
The Goal: to produce a sustainable network of individuals who are well trained in various aspects of advanced bioinformatics and data science research, ready to assume leadership roles at academic, health care and research institutions in West Africa.

Dr. Peter Amoako-Yirenkyi
Kwame Nkrumah University of Science And Technology
---
The Problem
Researchers working in the life sciences are generating data of increasing size and complexity due to modern research techniques. Interpreting this data is essential for understanding health and disease and developing solutions to improve African and global health. However, the long-term sustainability of current African data-science initiatives remain a doubt if effort is not directed to African Universities to develop innovative, future-looking- oriented data science academic education to perpetuity maintain the scientific research leadership in data science and health.
Project Strategy
Establish a collaborative bioinformatics training program between Covenant University (CU) in Nigeria, University of Sciences, Techniques and Technologies of Bamako (USSTB) in Mali, and Kwame Nkrumah University of Science and Technology (KNUST) in Ghana.
Support two tracks of bioinformatic training:

Training of MSc./ PhD candidates in bioinformatics and data science and providing post-doctorate fellowships to junior faculty in bioinformatics and data science
Networking and mentorship training in advance bioinformatics and data science research
Potential Impact
The increasing number of highly qualified bioinformaticians that WASLITBRe will deliver will have the knowledge and skills to analyze genomics, genetic and environmental data relevant to cross cutting health issues in Western Africa. They will be competent to engage in equitable collaborations as highly qualified Bioinformaticians with peers in Africa and elsewhere to lead research, participate in the analysis of complex datasets and train the next generation of bioinformaticians. As genomic data grows in influence on health research and practice, growing the generation of young Africa scholars with this competence is essential.
Project Sites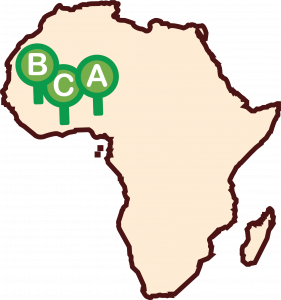 A: Nigeria
Covenant University
B: Mali
University of Sciences, Techniques and Technologies of Bamako
B: Ghana
Kwame Nkrumah University of Science And Technology, University of Ghana