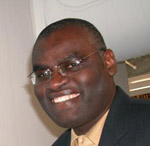 Dr. Clement Adebamowo
Director of Strategic Information, Research and Training, Institute of Human Virology, Nigeria
---
Dr. Clement Adebamowo is director of Strategic Information, Research and Training at the Institute of Human Virology, Nigeria; associate professor of Epidemiology and Public Health, and a member of the Greenebaum Cancer Center, School of Medicine, University of Maryland, Baltimore. He is also an honorary professor, Dundee University, UK.; chairman of the National Health Research Ethics Committee of Nigeria; director of the Center for Bioethics, Ibadan, Nigeria; and director of the West African Framework Program for Global Health.Dr. Adebamowo was also a professor of surgery and a lecturer in Nutrition Epidemiology and Bioethics at the University of Ibadan, Nigeria; director of the Institute for Advanced Medical Research and Training; and the chair of the Ethics Committee at the University of Ibadan until July 2009.
Dr. Adebamowo studied medicine at the University of Jos, Nigeria, surgery and oncology at the University College Hospital, Ibadan, Nigeria, and epidemiology/biostatistics at Harvard University.
Dr. Adebamowo has conducted research in the genetics of breast, colon and prostate cancers; research ethics; and medical education. He has worked on Phase I of the International Haplotype Mapping Project and is the Principal Investigator (PI) of two National Institutes of Health (NIH) funded training grants in Nigeria and Co-PI of a third. He has authored more than 100 publications and has extensive local and international research experience in Nigeria and in the United States. His current research interests are AIDS associated malignancies; epidemiological transition in non-communicable diseases epidemiology in Africa, including impact of communicable disease; and research ethics.
Dr. Adebamowo is currently chairman of the International Affairs Committee of the American Society of Clinical Oncology and president of the Society of Oncology and Cancer Research of Nigeria. He is a member of the editorial board for several journals including Public Health Ethics, Journal of Oncology, Journal of Clinical Oncology, Annals of Oncology, and the Journal of Engineering and Environmental Health, and is an ad hoc reviewer for many more. He is currently cditor-in-chief of two journals — Cancer in Africa Online Journal (CIAO) and Bioethics Online Journal (BEOnline).