African Neurobiobank for Precision Stroke Medicine: ELSI Project
The Goal: To identify, examine, and develop novel approaches to address ethical, legal, and social issues (ELSI) of stroke genomics and biobanking in Sub-Saharan Africa.
The Problem
In Sub-Saharan Africa (SSA), stroke incidence rates are rising, outcomes are worse, and relatively younger people are affected compared with Caucasian populations. As stroke genomic discoveries and stroke biobanking activities grow in SSA, there is a need to identify, document, and develop approaches to address the ethical, legal, and social implications in an emerging African scientific landscape.
Project Strategy
Identify and examine relevant stroke biobanking and genomics ELSI issues using mixed methods such as focused ethnography and a questionnaire survey.
Explore knowledge, attitude, perceptions, barriers, and facilitators influencing ELSI in the context of stroke genomic research.
Develop contextual intervention tools, platforms, and practices to enhance community understanding and participation in genomic and stroke biobanking activities.
Build capacity and careers related to genomic and biobanking ELSI for effective client/community engagement.
Enhance regulatory, governance, and implementation competencies in biobanking science in SSA.
Outcomes to Date
Developed comprehensive and robust study protocols and instruments and translated study tools into relevant local languages.
Developed a mini dictionary for data collection.
Developed a newsletter for the Community Advisory Boards across study sites.
Concluded qualitative data collection processes by conducting 70 key informant interviews and 28 focus group discussions.
Recruited over 1,400 participants for the quantitative questionnaire survey.
Project Sites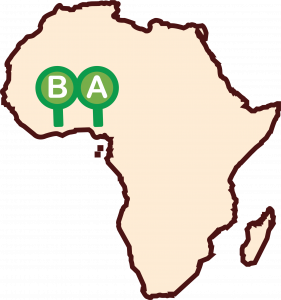 A: Nigeria
University of Ibadan/ College of Medicine, University of Ilorin/University of Ilorin Teaching Hospital, Federal Medical Centre, Bayero University/Aminu Kano Teaching Hospital, Ahmadu Bello University Teaching Hospital
B: Ghana
Kwameh Nkrumah University of Science and Technology, University of Ghana/Korle Bu Teaching Hospital
Non-African Collaborators
USA: Medical University of South Carolina
UK: Newcastle University