Genetics and Genomic Research in Uganda: Towards Context Specific Ethics Guidelines
The Goal: To develop culturally appropriate model ethics guidelines for conducting genetics and genomics research (GGR) in Uganda.

Dr. Erisa Mwaka Sabakaki
Makerere University College of Health Sciences
---
Dr. John Barugahare
Makerere University College of Health Sciences
---
The Problem
Genetics and genomics research (GGR) has been conducted in Uganda for more than 20 years, and the volume of GGR activity is expected to continue to increase because of its potential to advance targeted disease detection and interventions to address significant burdens of communicable and non-communicable diseases in the country. GGR presents unique challenges for ethical and regulatory oversight, especially in low-income countries such as Uganda. An in-depth understanding of these ethical, legal and social issues is essential to the process of developing meaningful ethics guidelines for GGR.
Project Strategy
Assess stakeholder awareness of GGR, and the nature of ethical and social concerns associated with GGR in Uganda, to better understand local needs and issues and provide robust data for later guideline development.
Evaluate existing guidance and guidelines on the ethics and oversight of GGR for applicability to the Ugandan setting, with a particular emphasis on guidance and guidelines developed by and for Africa.
Develop and disseminate a model guideline for the ethics of GGR in Uganda.
Potential Impact
Through an interdisciplinary collaboration of Ugandan and international experts in bioethics, law, social science, philosophy, genetics and genomics research, and clinical science, this project will undertake a systematic process to document and analyze the ethical, legal, and social issues relevant to GGR in Uganda. The ultimate output of the project is context-specific model guidelines for the conduct of GGR in Uganda. These guidelines will improve the protection of the rights and special interest in Ugandans, as well as improve the population's chances of benefiting from GGR. The data derived from this study, its methods, and its products are likely to be of great utility to other countries in Africa.
Project Sites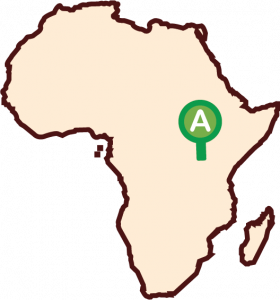 A: Uganda
Makerere University College of Health Sciences