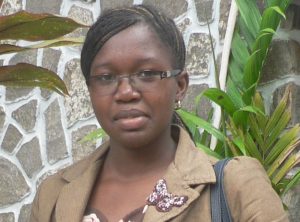 Ida Guiateu Tamo
H3Africa PI: Djuidje Ngounoue Marceline
Institution: University of Yaoundé I
Project Affiliation:
Abstract
Background
Hepatitis C remains a public health issue worldwide. HCV (hepatitis C virus) shares some common routes of transmission with the Human Immunodeficiency Virus (HIV), and can lead to many complications. The study objective was to analyse and compare biochemical markers and socio-demographic data, in people living with HIV/AIDS and HIV/HCV co-infected identified in Yaoundé Central Hospital, Cameroon
Method
From November 2015 to February 2016, the serum of 75 patients who tested positive for HIV at Yaoundé Central Hospital. Socio-demographic data were collected and some biochemical parameters (ALT, AST, -GT, LAP, Bilirubin) were analysed. The data was entered and analysed using SPSS version 22.1. Statistical analysis was performed using Student-t-test. The statistical significance was set at the threshold p ≤ 0.05.
Result:
In HIV mono-infected, The mean age was 50.39 ± 11.43 and lower than that of HIV/HCV coinfected (58.57 ± 3.74), and the predominant sex was female. The result show a significant increase of -GT (P <0.0001) and Total Bilirubin (P = 0.015) in HIV/HCV co-infected patients compared to HIV mono-infected patients. The infection is more common in widows/widowers, 33.3% with a predominance of secondary level, 28 (37.3%) in HIV mono-infected and 6 (8.0%) in HIV-HCV co-infected. High proportions of patients with LAP enzymatic activities higher than normal values are observed within the population.
Conclusion
The infection is high among women and affects all social classes and remains a problem in society with variation of some markers.
Next steps : determine the electropheretic profile in disease control