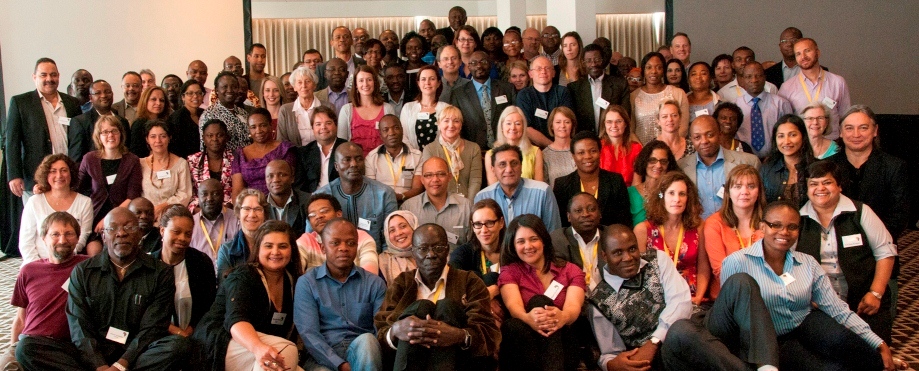 Third H3Africa Consortium Meeting
The Radisson Blue Gautrain Hotel
Sandton, South Africa
3-6 October 2013
Agenda
Thursday, October 03, 2013

Third H3Africa Consortium Meeting Day 1

07:00-08:30
Registration & Welcome Coffee/Tea
VENUES
08:30-10:00

PARALLEL SESSIONS

Biorepository Users Working Group

Chairs

Akin Abayomi and Alan Christoffels

Discussion Facilitators

Michelle Skelton

Genome Analysis Working Group

Chairs

Zane Lombard

Discussion Facilitators

Jeff Struewing

Ethics &Regulatory Issues Working Group

Chairs

Jantina De Vries

Discussion Facilitators

Katherine Littler

Education and Coordinated Training Working Group (08h30 – 09h30)

Discussion Facilitators

Lara Bethke

Study and Coordinators Discussion Group

(09h30 – 10h00)

Discussion Facilitators

Lara Bethke

Main Station One

Main Station Two

Main Station Three

Union Station

Union Station

10:00-10:30
Tea/Coffee break
Outside Meeting area
10:30-12:30

PARALLEL SESSIONS

Biorepository Principle Investigators

Chairs

Sue Penno

Discussion Facilitators

Alash'le Abimiku

Genome Analysis Working Group

Chairs

Debo Adeyemo and Zane Lombard

Discussion Facilitators

Jeff Struewing

Ethics &Regulatory Issues Working Group

Chairs

Jantina De Vries

Discussion Facilitators

Katherine Littler

H3ABionet Infrastructure and User Support Working Group

Main Station One

Main Station Two

Main Station Three

Union Station

12:30-14:00
Lunch
Gautrain Room
14:00-15:00

PARALLEL SESSIONS

Data Sharing, Access, Release Working Group

Chairs

Nicola Mulder and Bamidele Tayo

Discussion Facilitators

Audrey Duncanson

Phenotype Harmonization Working Group

Chairs

Alia Benkahla

Discussion Facilitators

Publications & Marker Paper Working Group

Chairs

Michele Ramsay and Enock Matovu

Discussion Facilitators

Mark Guyer and Audrey Duncanson

Communications & Outreach Working Group

Chairs

Akin Abayomi

Discussion facilitators

Lara Bethke

Main Station One

Main Station Two

Main Station Three

Union Station

15:00-15:30
Tea/Coffee break
15:30-16:30

PARALLEL SESSIONS

Data Sharing, Access, Release Working Group

Chairs

Nicola Mulder and Bamidele Tayo

Discussion Facilitators

Maria Giovanni and Audrey Duncanson

Phenotype Harmonization Working Group

Chairs

Alia Benkahla

Discussion Facilitators

Jeff Struewing

Publications & Maeker Paper Working Group

Chairs

Michele Ramsay, Charles Rotimi, Enock Matovu

Discussion Facilitators

Mark Guyer and Audrey Duncanson

Communications & Outreach Working Group

Chairs

Akin Abayomi

Discussion Facilitators

Jane Peterson & Lara Bethke

Main Station One

Main Station Two

Main Station Three

Union Station

16:30-17:30
Steering Committee Meeting
Main Station One
17:30-18:00
Discussions

Principle Investigators and Independent Expert Committee

Principle Investigators and Project teams

Principle Investigators and Funders

Main Station Two
18:00-19:00
Social hour
Pool deck
19:00
Dinner

Friday, October 04, 2013

Third H3Africa Consortium Meeting Day 2

(All meetings take place in the Gautrain room unless stated otherwise)

07:30-08:30
Welcome Coffee/Tea
08:30-08:35
Opening Remarks– Audrey Duncanson
08:35-09:30
Biorepository Working Group

Chairs

Charmaine Royal

Discussion Facilitators

Akin Abayomi, Alash'le Abimiku

09:30-10:30
Data Sharing, Access and Release Working Group

Chairs

Val Sheffield

Discussion Facilitators

Nicola Mulder, Bamidele Tayo

10:30-11:00
Tea/Coffee break
11:30-13:00
Ethics and Regulatory issues Working Group

Chairs

Ruth Chadwick

Discussion Facilitators

Jantina De Vries

13:00-14:00
Lunch
14:00-15:00
Genome Analysis Working Group

Chairs

Carlos Bustamante

Discussion Facilitators

Zane Lombard

15:00-16:00
Phenotype Harmonization Working Group

Chairs

George Mensah

Discussion Facilitators

Alia Benkahla

16:00-16:30
Tea/Coffee break
16:30-17:30
Publications & Marker Paper Working Groups

Chairs

Phillip Awadalla

Discussion Facilitators

Michele Ramsay, Enock Matovu

17:30-18:30
17:30 – 17:50: Education & Coordinated Training Working Group

17:50 – 18:10: Communications & Outreach Working Group

18:10 – 18:30: Study Coordinators Discussion Group

Facilitator: Lara Bethke

18:30-19:30
Discussions

Principle Investigators and Independent Expert Committee

Principle Investigators and Project teams

Principle Investigators and Funders

18:30-19:30
Social Hour – Pool Area, Radisson Hotel
19:30
Dinner

Saturday, October 05, 2013

Third H3Africa Consortium Meeting Day 3

(All meetings take place in the Gautrain room unless stated otherwise).

07:30-08:00
Welcome Coffee/Tea
08:00-08:30
Welcome & H3Africa Overview

Kay Davies

SESSION 1

Bioinformatics – Chair: Kay Davies

08:30-08:50
H3ABioNet: A Sustainable African Bioinformatics Network for H3Africa

Principle Investigator : Nicola Mulder

SESSION 2

Non-infectious Diseases – Chair: Val Sheffield

08:50-09:10
H3Africa Kidney Disease Research Network

Principle Investigator : Dwomoa Adu

09:10-09:30
Genomic and Environmental Risk Factors for Cardiometabolic Disease in Africans

Principle Investigator : Michele Ramsay / Osman Sankoh

09:30-09:50
Burden, spectrum and etiology of type 2 diabetes in sub-Saharan Africa

Principle Investigator :Albert Amoah

09:50-10:10
The RHDGen Network: Genetics of rheumatic heart disease and molecular epidemiology of Streptococcus pyogenes pharyngitis

Principle Investigator : Bongani Mayosi

10:10-10:30
Stroke Investigative Research & Educational Network (SIREN)

Principle Investigator : Mayowa Ojo Owolabi

10:30-11:00
Tea/Coffee break
11:00-11:20
Clinical and genetic studies of hereditary neurological disorders in Mali

Principle Investigator : Guida Landoure

11:20-11:40
Genomics of Schizophrenia in the South African Xhosa

Co-Principle Investigator : Raj Ramesar

SESSION 3

Microbiome – Chair: Carlos Bustamante

11:40-12:00
African Collaborative Center for Microbiome and Genomics Research (ACCME)

Principle Investigator : Clement Adebamowo

12:00-12:20
The nasopharyngeal microbiome and respiratory disease in African children

Principle Investigator : Mark Nicol Patrick

12:20-13:30
Lunch

SESSION 4

Biorepository – Chair: Ruth Chadwick

13:30-13:50
IHVN H3 African Biorespository (I-HAB) Initiative

Principle Investigator : Alash'le Abimiku

13:50-14:10
Development of H3 Africa Biorepositories to facilitate studies on Biodiversity, Disease & Pharmacogenomics of African Populations

Principle Investigator : Akin Abayomi

14:10-14:30
Integrated Biorepository of H3Africa Uganda – IBRH3AU

Principle Investigator : Moses Joloba

14:30-14:50
Establishment of an H3Africa Biorepository at Contract Laboratory Services

Principle Investigator : Ute Jentsch

SESSION 5

Ethics – Chair: Charmaine Royal

14:50-15:10
Exploring Perspectives on Genomics and Sickle Cell Public Health Intervention

Principle Investigator : Ambroise Wonkam

15:10-15:40
Tea/Coffee break

SESSION 6

Infectious Diseases – Chair: Philip Awadalla

15:40-16:00
Host and Microbial Genetic Determinants of Febrile Illness in West Africa

Principle Investigator : Christian Happi

16:00-16:20
TrypanoGEN: An integrated approach to the identification of genetic determinants of susceptibility to trypanosomiasis

Principle Investigator : Enock Matovu

16:20-16:40
Reprogramming of the Trypanosoma brucei epigenome during human infection: opportunities for new therapies

Principle Investigator : Hugh-George Patterton

16:40-17:00
Collaborative African Genomics Network (CAFGEN)

Principle Investigator : Gabriel Anabwani

17:00-17:20
RAFAgene: Contribution of genetic variation to pharmacokinetic variability and toxicity in patients undergoing multi-drug tuberculosis treatment in Sub-Saharan Africa

Principle Investigator : Dissou Affolabi

17:20-17:40
Systems Biology for Molecular Analysis of Tuberculosis in Ethiopia

Principle Investigator : Gobena Ameni

18:00-19:00
Steering Committee Meeting

Sunday, October 06, 2013

Genome Analysis Session

The Maslow Hotel

8:30 – 8:35
Introduction

Zané Lombard

8:35 – 8:45
Overview of H3Africa

Audrey Duncanson

8:45 – 9:25
Population genomic variation across Africa

Sub-Saharan genetic diversity and San and Khoe

Himla Soodyall & Mattias Jakobsson

9:25 – 10:00
Current arrays for capturing variation in African populations & whole genome sequencing based approaches

Manj Sandhu (AGVP)

10:00 –10:25
Imputation, meta-analysis & population stratification

Dominic Kwiatkowski (MalariaGEN)

10:25– 10.50
Admixture and African populations

Carlos Bustamante

10:50 – 1:40

Technologies and platforms for genomics in Africa

Chair: Michele Ramsay

Donovan Burger Separation Scientific SA

11:40 –12:10
Panel Discussion

Manj Sandhu

Dominic Kwiatkowski

Mattias Jakobsson

Himla Soodyall

Chairs: Carlos Bustamante and Michele Ramsay

12:10 –12:15
Closing remarks
The third H3Africa Consortium Meeting will be held on October 3-6, 2013 in Johannesburg, South Africa. The aims of the H3Africa Consortium meeting are to provide an opportunity for H3A investigators to update on the achievements on their projects, and for the working groups to have a face to face meeting and develop policies, materials and recommendations to standardize activities across the consortium. The meeting will also provide networking opportunities for awardees, the working groups, and funders, and to enable discussions on how to build research capacity across the Initiative and access new opportunities.
The outline of the meeting is as follows (see program):
3rd October H3Africa working group meetings (Radisson Blu hotel)
4th October H3Africa Consortium meeting (Radisson Blu hotel)
5th October H3Africa Project presentations *Open session (Radisson Blu hotel)
6th October African Genome variation session *Open session, ½ day (Maslow Hotel)
The meeting precedes the 15th Biennial Congress of the Southern African Society for Human Genetics (SASHG), which runs from the 6th to 9th October 2013 at the Maslow Hotel, see: http://www.sashg2013.co.za (website is currently down) for details.
The first 2 days of the H3Africa Consortium meeting are closed for Consortium members, but the last 2 are open to others who want to attend. Please register to attend (see registration information below).
Meeting venue
The main H3Africa Consortium Meeting from the 3-5th October will take place at the Radisson Blu hotel in Sandton, next to the Gautrain station: http://www.radissonblu.com/hotelsandton-johannesburg.
The Genome Variation session on the 6th October will take place at the Maslow hotel, which is 7-10 minute's walk away.
Registration for all sessions are now closed
All attendees are required to register. For H3Africa consortium members, please register at: http://surveys.h3abionet.org/h3ajhb

Note:
Each project has a limit on the number of participants, additional people over and above these limits will be required to pay a registration fee of $250. Please check with your project PI which category you fall in.
Participants are responsible for their own travel arrangements and hotel bookings
For non-H3Africa consortium members, please register for the open sessions at:
http://surveys.h3abionet.org/h3ajhb-open